In addition to our demolition projects, both residential and commercial we offer:
JUNK REMOVAL
SITE CLEANUPS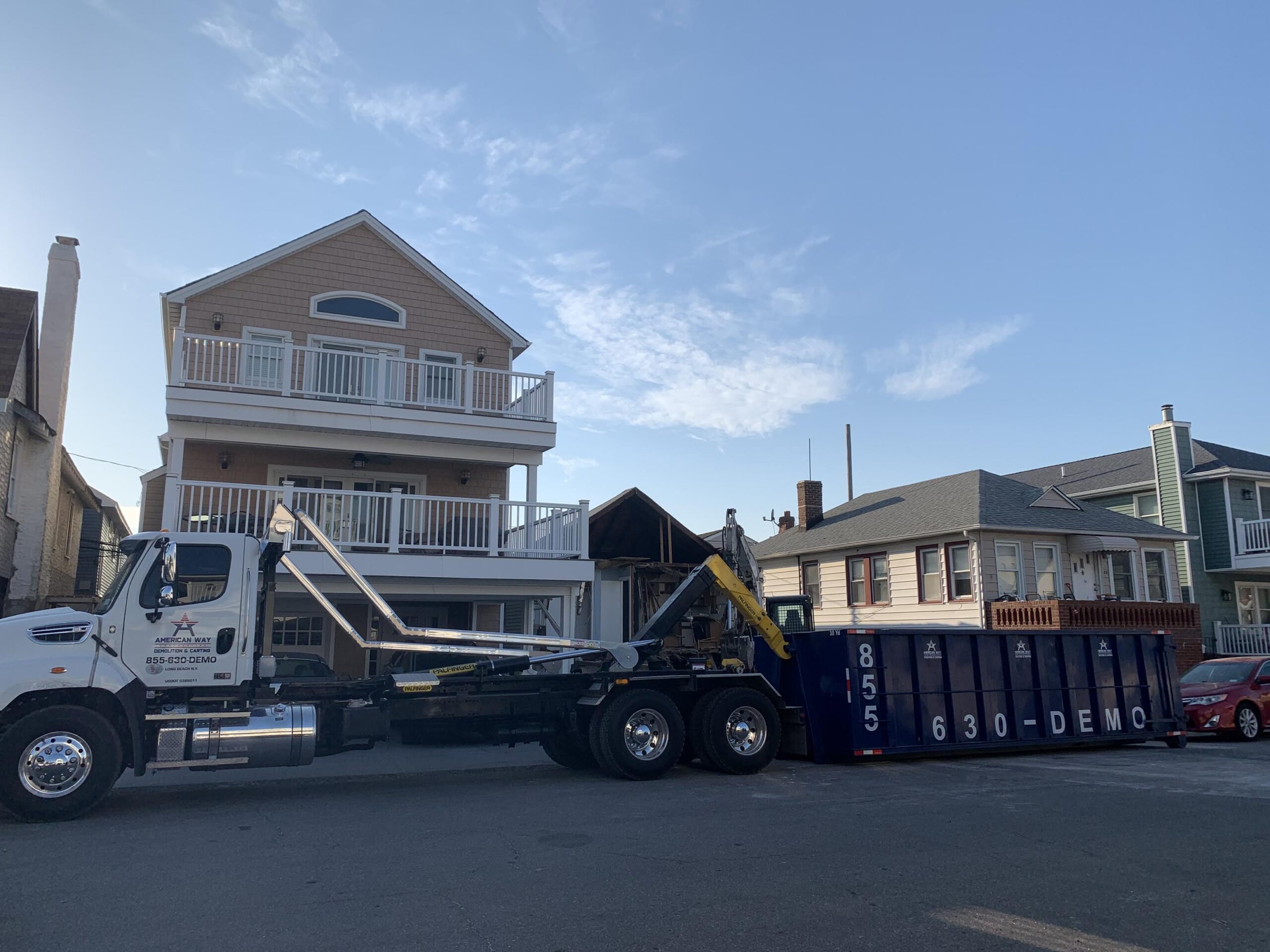 Junk Removal
Why do you need a junk removal service? At American Way Contracting, Demolition and Carting, we know most homeowners have no way of disposing of large items properly and efficiently. That's what we provide. You won't have the laborious, back-breaking work of hauling that old stove or couch on the "right" large garbage day. Old tubs? Barbecue grill? Queen bed frame? No problem! We provide fast, reliable service in the Nassau and Suffolk county area.
When you call AmericanWay for a free quote, have an idea in mind of how much junk you want to be removed. Our Junk Removal service is well suited to residential areas where you want to keep your home and surroundings clean and tidy. That spring or fall clean up planning and purging turns into one phone call (1-855-630-DEMO ) or contact us.
If you are looking at a large DIY project in your home, you might want to look into our roll-off container rental service.
What about Commercial Junk? American Way offers that too. Every organization in business even for a short time generates unwanted clutter. The chair that broke, an old copier, the desk you replaced-our high-quality junk removal service disposes of it all. No more hauling things to the local landfill or recycling center in Nassau and Suffolk county.
Get a free quote tailored to your business from our experienced, insured professionals.
If you're not donating or selling your old office furniture, American Way does all the heavy lifting for you.
The same holds true for your equipment removal. Those items are bulky, awkward, and heavy, and you shouldn't have you or your staff trying to move them. Call our team at AmericanWay, Long Island, get a quote, and stay safe in the workplace.
How else can American Way help you with junk removal?
Here's just a few ideas:
Unwanted metal (iron, copper, steel, brass, aluminum, etc.)
Plumbing fixtures
Office renovation debris
Beams & wires
Then too what about property management clean out? A vacated residence cannot be re-leased until the junk goes away, and some renters leave a LOT of mess. Every day that the junk remains is one day less of rent you're collecting.
Have us come, remove all that stuff, and then you can get back in business.
Similar issues hold true with foreclosures. You walk into a home and see all the abandoned items left behind. Many times, people are upset by the situation so they don't care about the home's condition when they move out. It is the realtor's (or bank's) task to get everything in order. Hire AmericanWay and scratch that task off your "to do" list.
Owners of rented storage facilities discover people leave behind their junk (no forwarding address!). You have to get all the items out of there before you can rent it again. Oh, certainly you can have auctions, but it's unlikely you'll sell everything. American Way clears out the abandoned unit, swiftly and efficiently.
If your business is in Suffolk or Nassau counties, American Way offers you the best, affordable junk removal you could want. We offer convenience, safety, cost savings, and peace of mind that your job will be done, meeting or exceeding your expectations.
Container Rentals
Small projects around the home can quickly turn into major design changes. You get one thing done, it makes everything look different and think, "how about…". Before you know it you have drywall, lengths of wood, piping, and trim scattered all over the place. This is a job for American Way container rentals.
1-855-630-DEMO
If you live in Long Island, we have roll-off containers. These act as dumpsters for the duration of your effort. And we are happy to report that American Way is insured, licensed and EPA Lead Safe Certified.
Even if you're just spring cleaning, you don't want all that stuff laying around. It's not only messy, it's not safe for anyone in your home. So rather than just leave it where it sits, you take it out to your rental dumpster! You can literally clean as you go.
American Way containers are affordable. So if you suddenly discover you are remodeling entire walls, ceilings, roofs, or creating a finished cellar, give our experts a call for a free estimate.
Ask as many questions as you want; our team values giving you exemplary customer service.
Our service doesn't end when the container's dropped off either. You can check with us any time if you have concerns or need more information. For example, if you're not sure if an item is prohibited due to regional regulations (car batteries, lawn mower oil, tires, etc.) we'll let you know and provide solutions that work.
1-855-630-DEMO
Tip: Once you know how big of a container you want, make sure you have a place to put it! If you don't have a large driveway or space beside the house, you might have to get creative. Ask us for ideas!
For commercial job sites, the value of a roll-off container rental leaps geometrically. Exposed piles of debris represent a risk to anyone visiting that site, including employees. You don't want anyone potentially tripping.
Having a dumpster keeps your work area tidy. It looks far more professional too.
Did you know that a clean work area is a more efficient job site? Workers don't have to twist and turn through the building to get to their work station. Plus, when their job is done, wast is already packed up and ready to go!
American Way knows you'll have a variety of discarded items that aren't limited to construction. It's old furniture and equipment too. If you have any hazardous waste, we will help you handle that as well. It is our job to know the regulations governing proper disposal.
Our company prides itself on being kind to the environment. When we pick up your roll-off rental container, we will do our best to reduce the carbon footprint it makes.
Contact or call us for a free quote today!